✔️ You might be feeling apprehensive about becoming a mother- how can you possibly prepare or know what to expect??!
✔️ It seems like there's a lot of information available about birth and some practicalities of parenting (like how to swaddle or bathe your baby), but you feel unprepared for motherhood itself
✔️ You feel concerned by the idea of not knowing what to do once baby arrives, or by trying to get motherhood 'right'
✔️ You'd like to feel emotionally, practically, and psychologically prepared to become a mother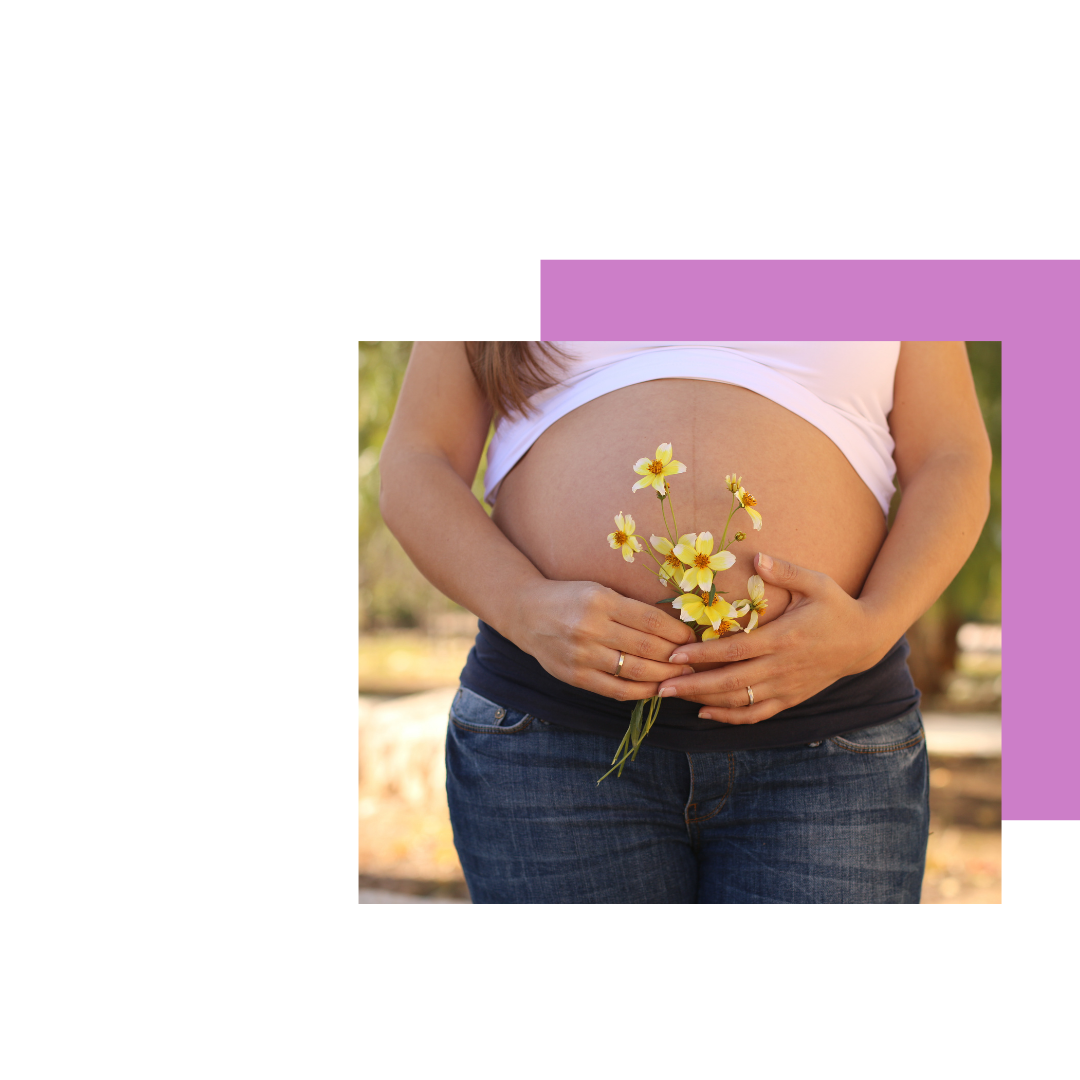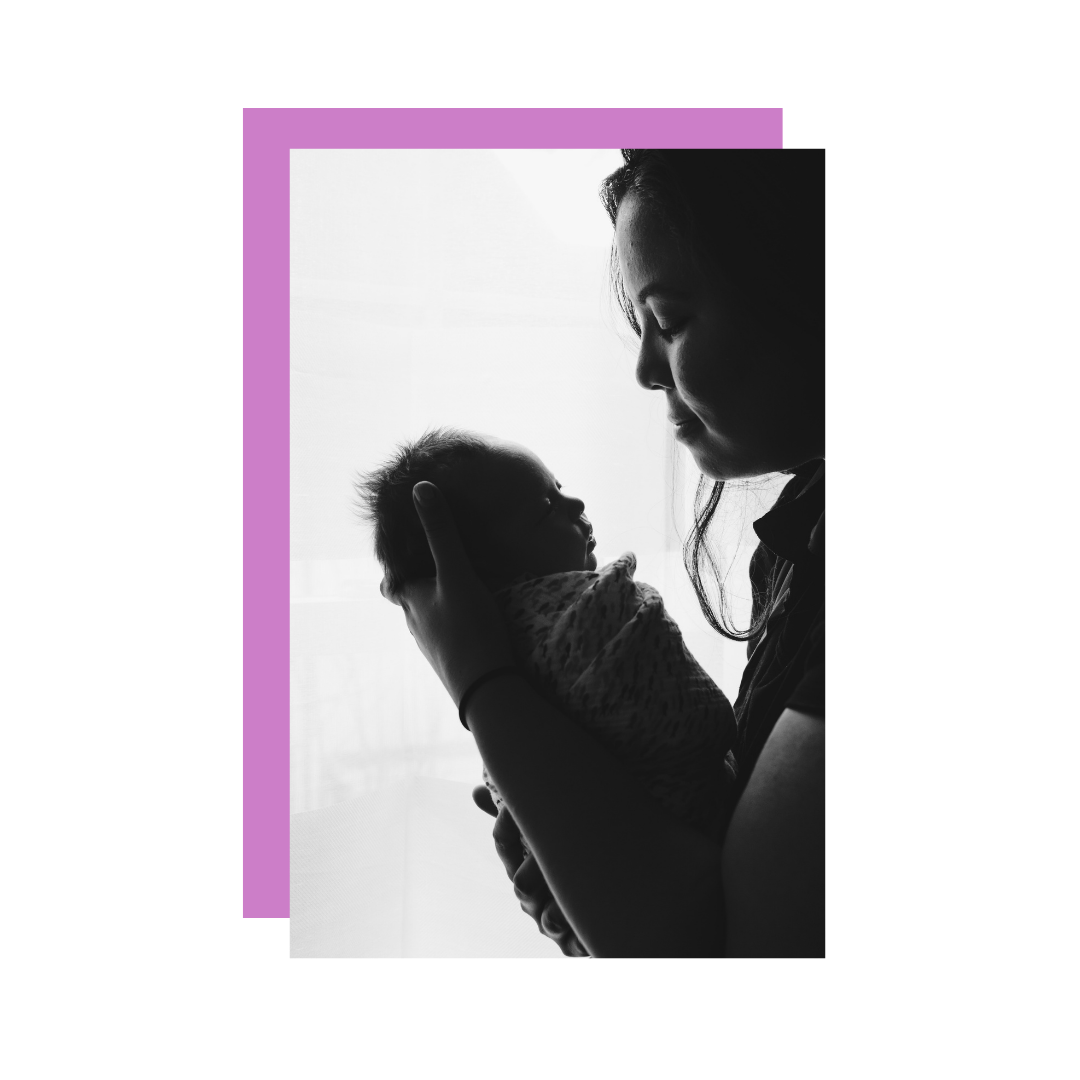 Or, Your Baby is Here! As a New Mum, Can You Relate....
Motherhood is essentially nothing like you expected. It's equal parts AMAZING and equal parts the hardest thing you've ever done.
✔️ You expected to feel blissful and fulfilled but instead have been surprised that there have bad or stressful days too
✔️ You can care for baby, but find it hard to take care of yourself too
✔️ You feel guilty that you're not feeling the way you 'should' be feeling
✔️ You're not feeling confident as a mother yet, or you feel like you're not good enough as a mum
✔️ You feel alone in your thoughts, stresses, or fears
I'm an experienced Clinical Psychologist. I'm an approved supervising psychologist, a member of the Australian Psychological Society, and a fellow of the College of Clinical Psychology.
I live in Townsville and love the tropical weather- call me crazy, but I rarely run the air-conditioning. I love cranking hip hop music while I'm driving.
I'm a mum of 2 young boys and know first hand that it can be challenging to become a mother.
I love working with women as they become mothers. It is a really vulnerable time for women, and having good support is really important.
I developed this course so I could try and reach as many mums as possible giving them the same opportunities for support as my individual clients. It's my way of trying to support expecting, new, or returning mums in a new and creative way.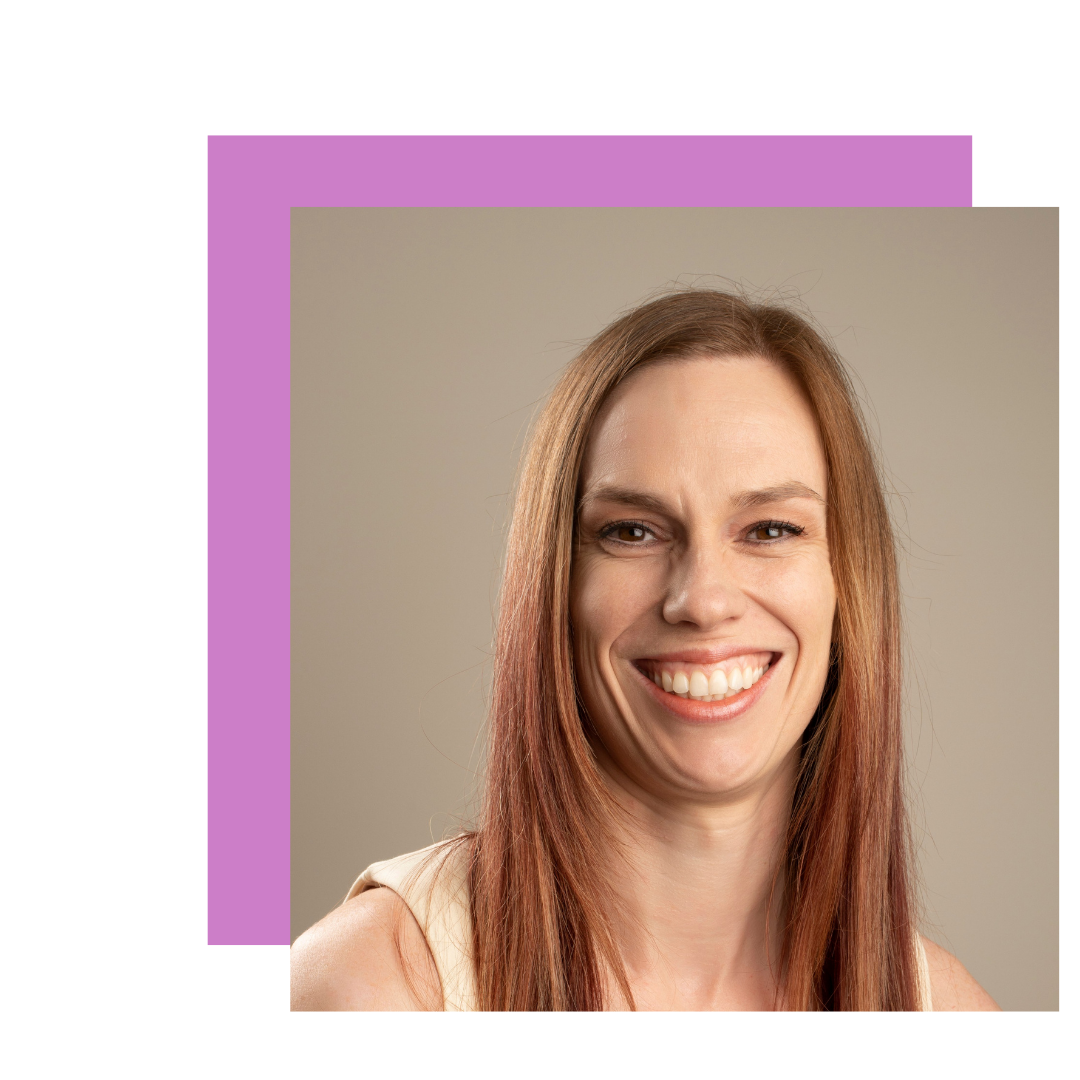 Introducing...
Transitioning to Motherhood: 6 Steps for New Mums to Thrive
This program will:
Prepare you for the realities of motherhood- so that you can hit the ground running!
Help you make the transition into being a mum- so you don't have to learn everything the hard way.
Enhance your physical, emotional, familial, and social wellbeing after birth - because you matter too. And, being in the best shape you can be allows you to be the best mother you can be.
Develop confidence in yourself as a mother, so that you grow and flourish in your new role.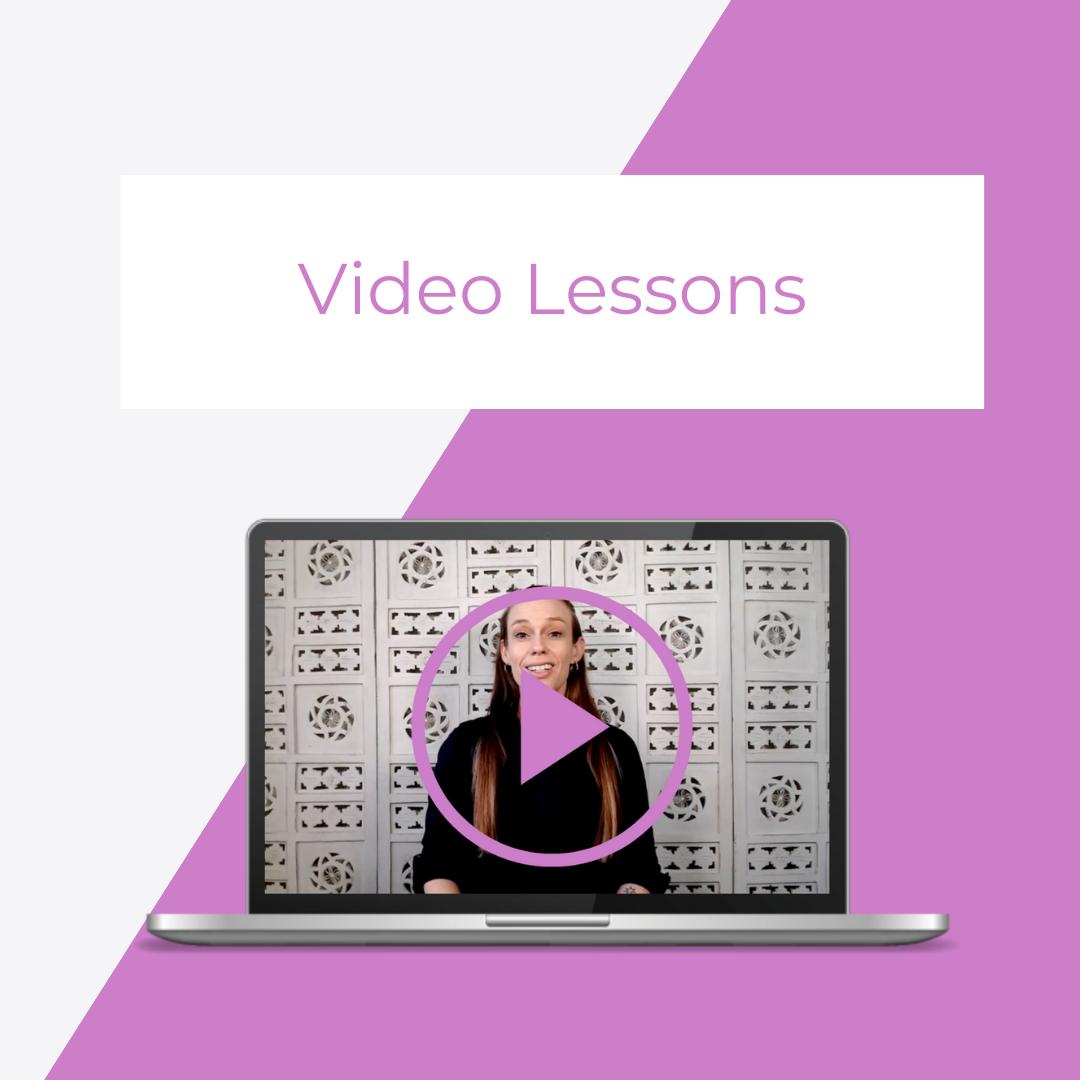 Video Lessons
There are 6 full modules with over 20 video lessons for you to interact with. These videos range from 2 minutes to 17 minutes in length. Most are under 10 minutes so they are easy to fit into your busy schedule!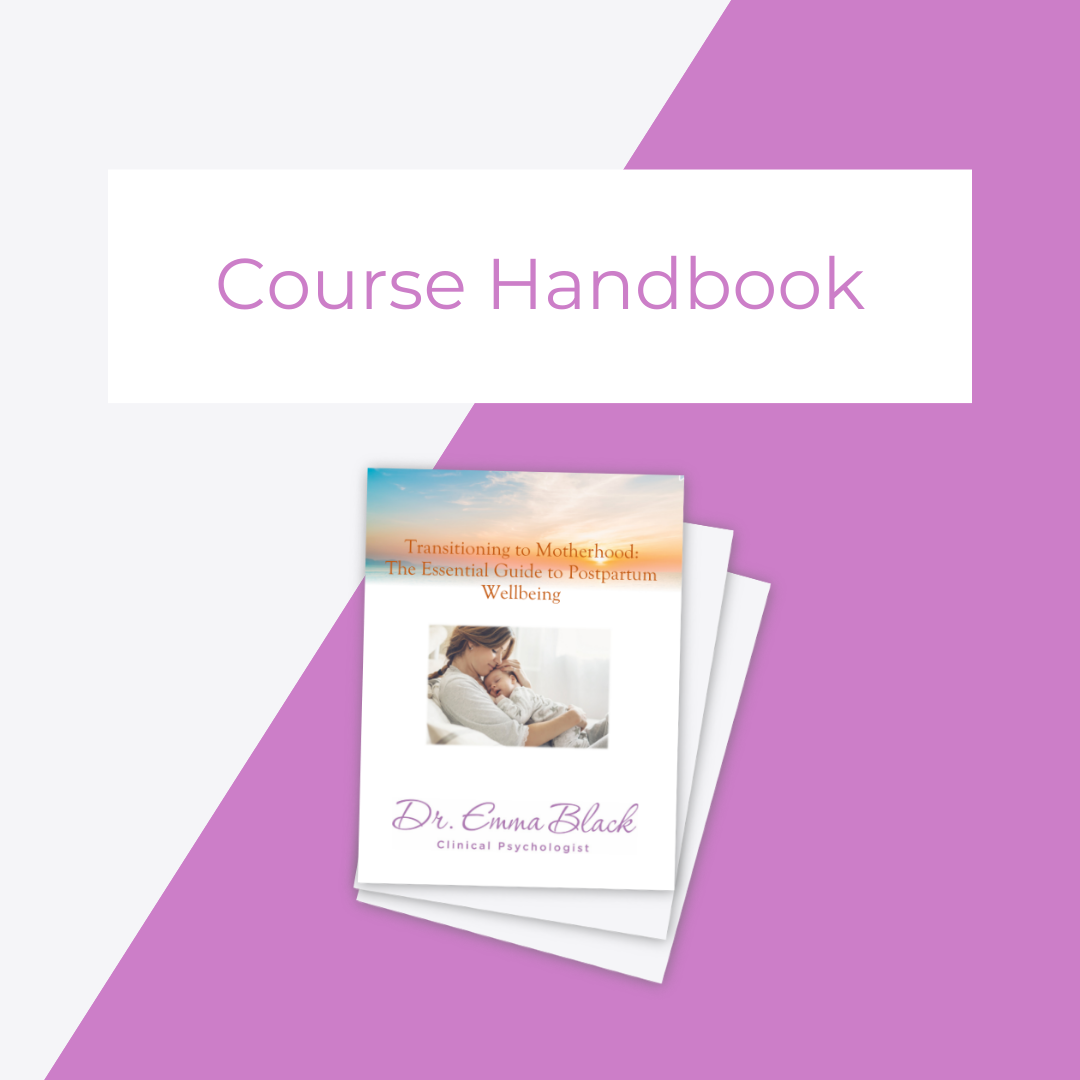 Course Handbook
This 27 page course handbook has a multitude of resources for you as you move through the materials. You can print it out, take notes, and refer back to it time and time again.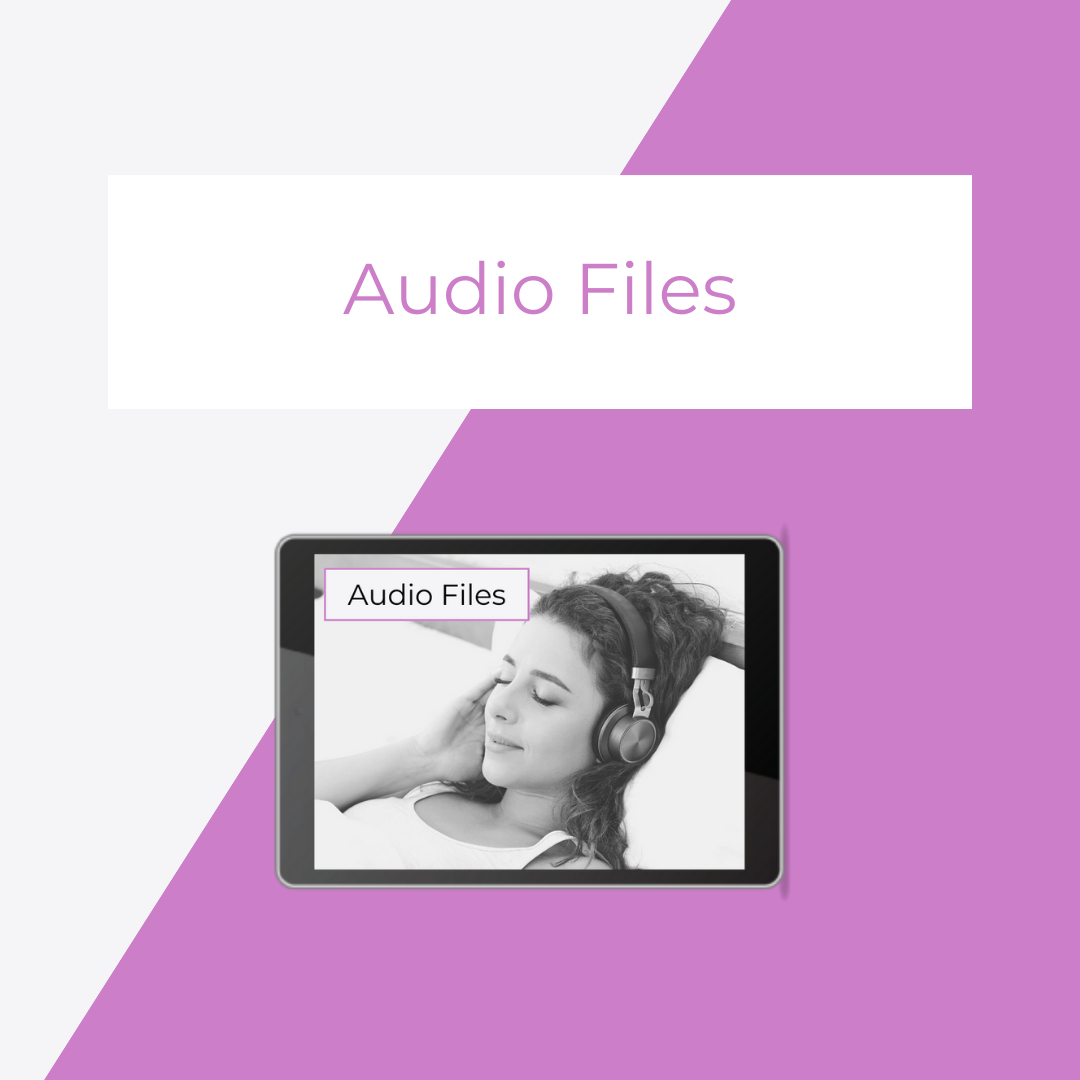 Audio Files
Like a podcast, there is an audio only option for each of the lessons, so you can listen while you are on the go!
Here's a Breakdown of the Modules: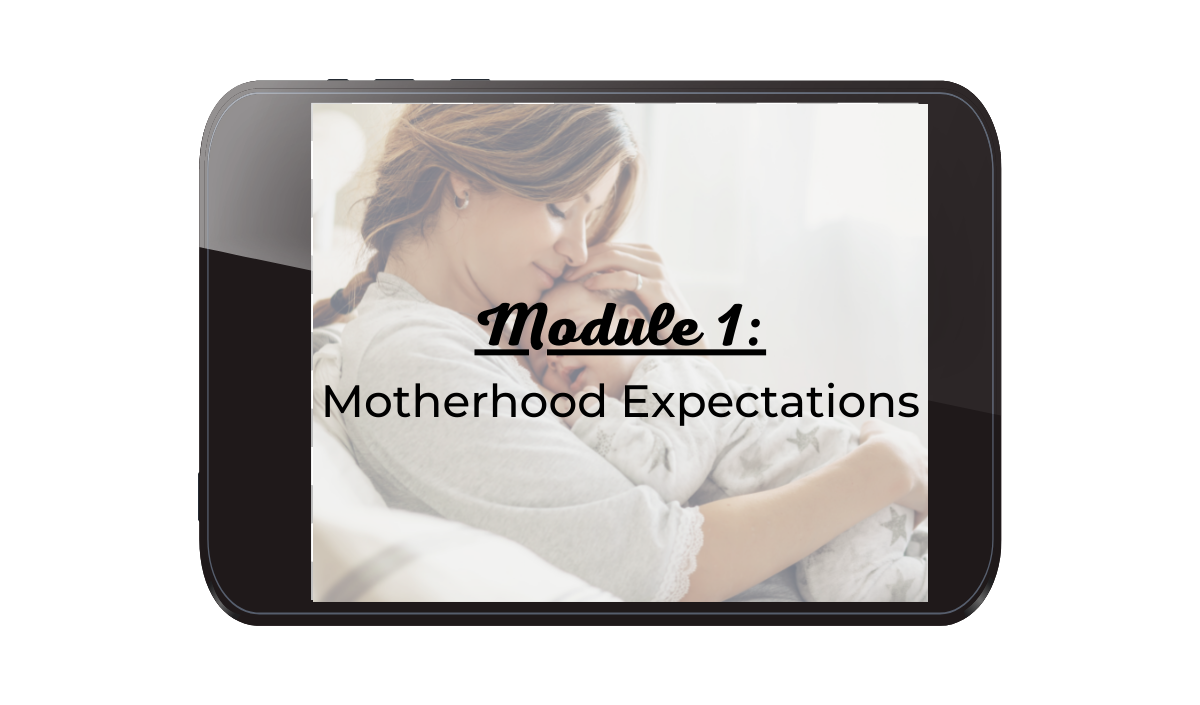 Module 1: Motherhood Expectations
Know what to expect as you become a mother.
Reflect on your expectations of motherhood.
Learn about common motherhood myths and how these can affect your wellbeing.
Learn about normal postpartum experiences.
Learn about symptoms of postnatal distress.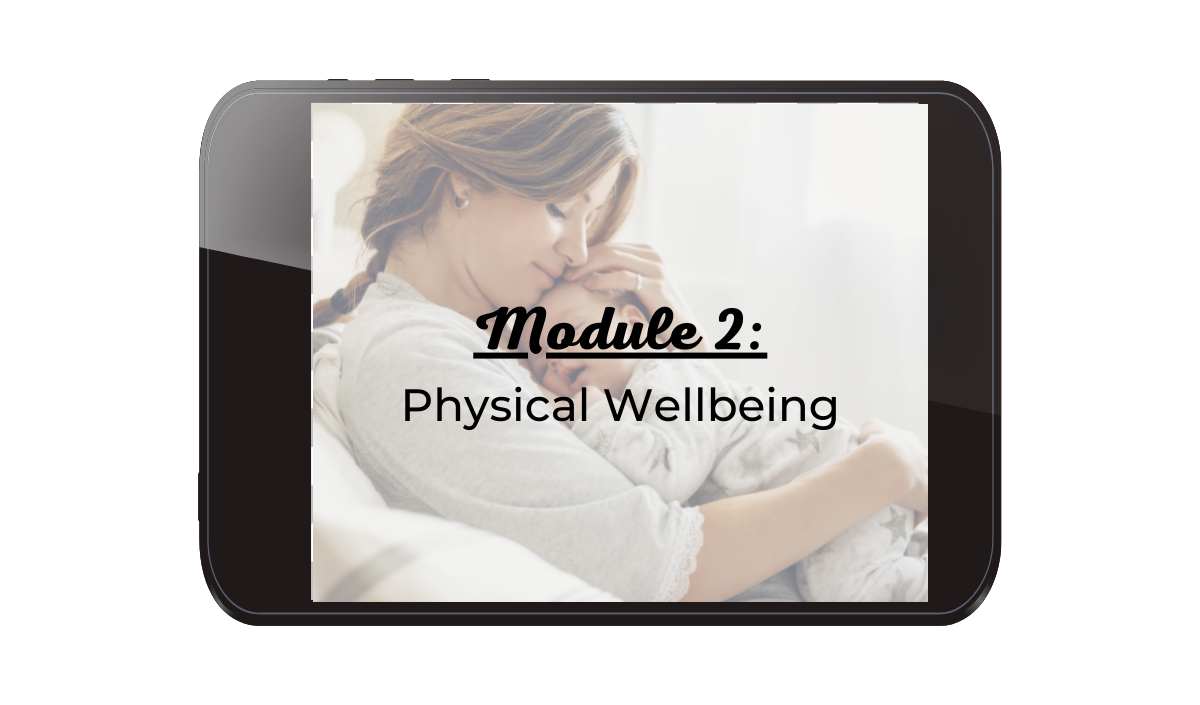 Module 2: Physical Wellbeing
Taking care of your body takes care of your mind and emotions.
This module covers creative ways to take care of your physical wellbeing (such as eating and sleeping) whilst you care for baby.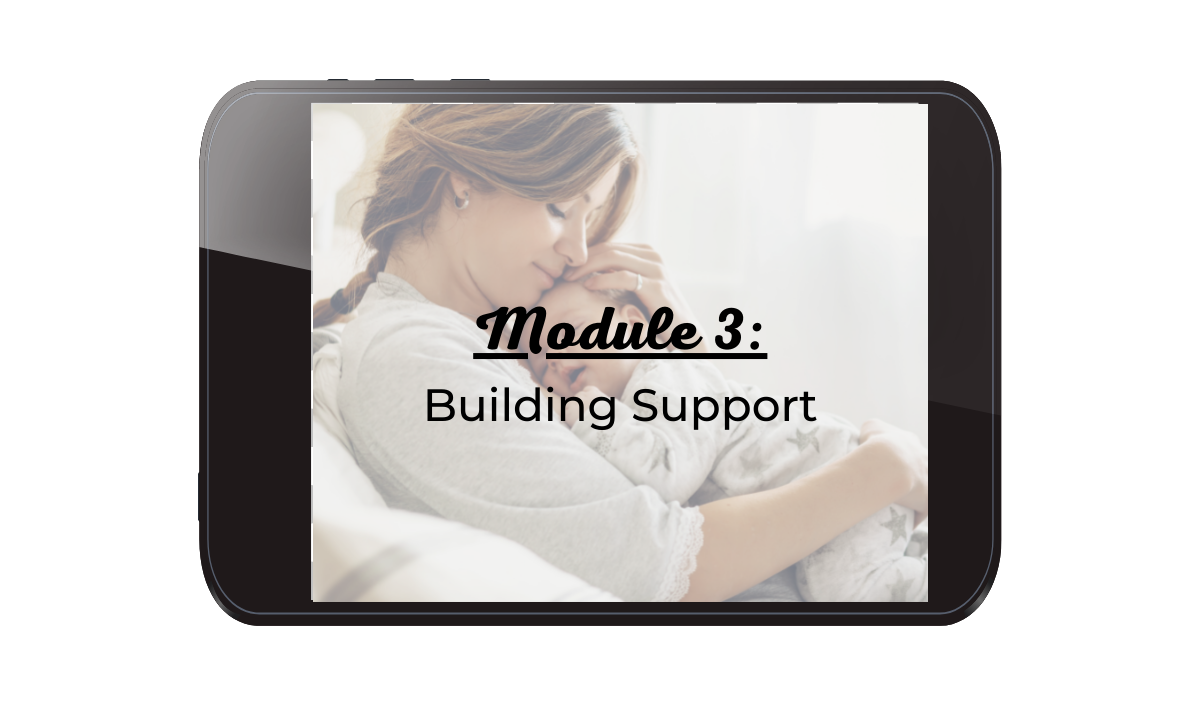 Module 3: Building Support
Mums need villages of support
Reflect on your barriers to accepting help.
Learn how to shape offers of help, ask for help, and outsource help.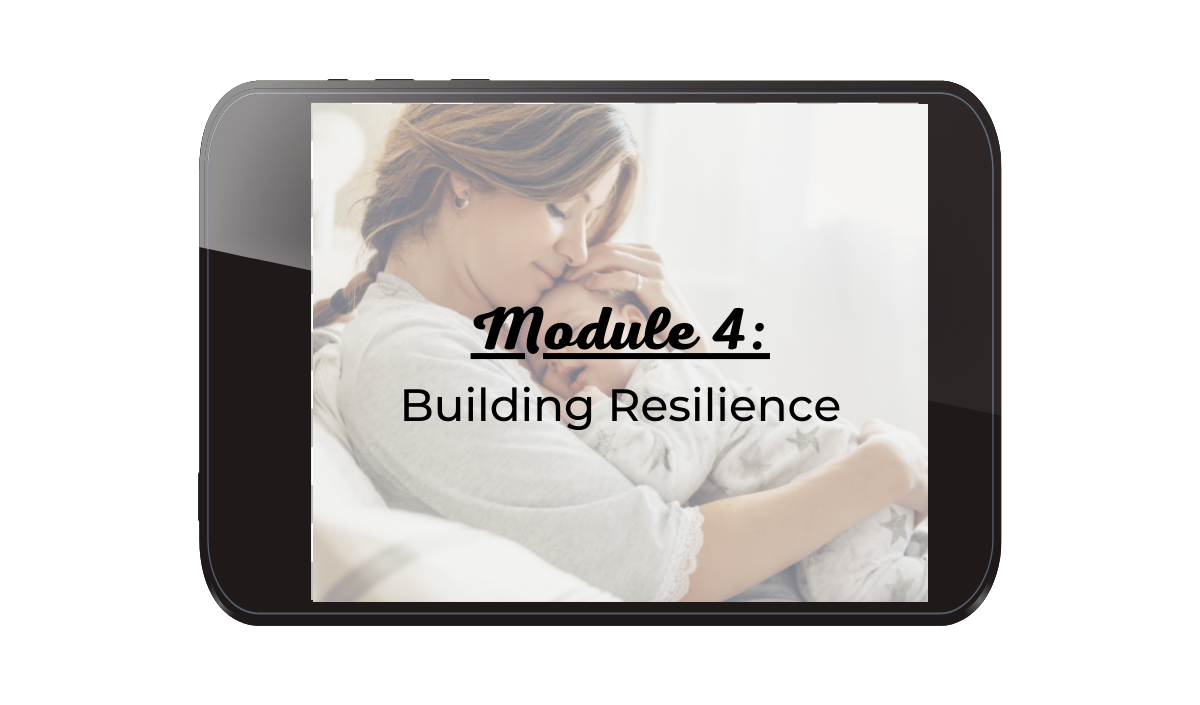 Module 4: Building Resilience
Manage the stresses of motherhood.
Learn how to manage negative thoughts that mums often experience
Learn how to manage difficult feelings, like stress and mum guilt.
Learn how to increase positive feelings in your daily life.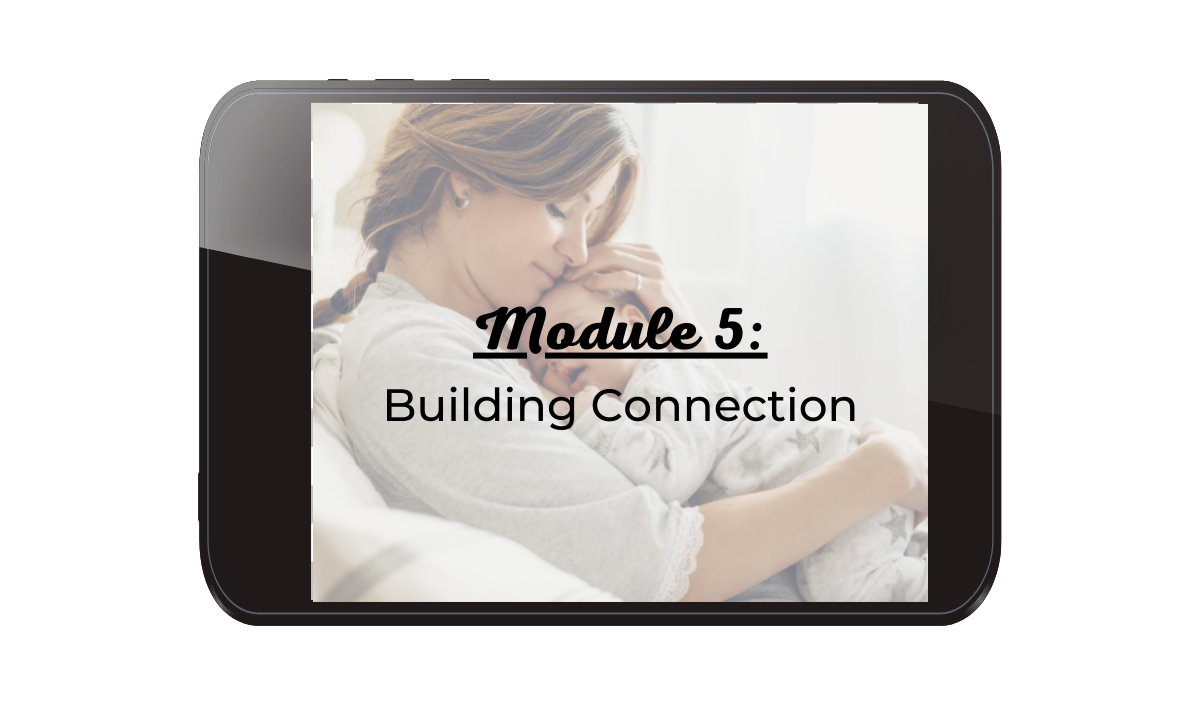 Module 5: Building Connection
Learn skills to bond with baby- even if you're already bonded well.
Learn how to navigate the relationship changes with your significant other.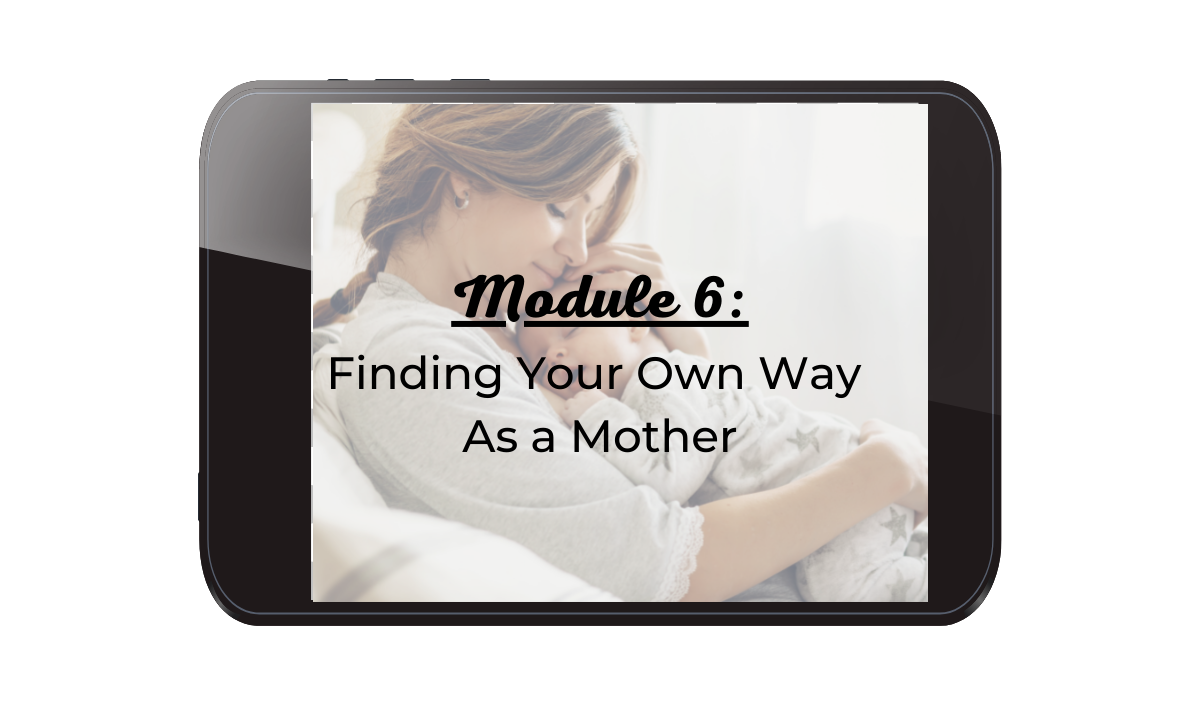 Module 6: Finding Your Own Way As a Mother
Find your own way as a mother.
Step back from comparing yourself to other mums.
Manage the unwanted advice from others.
Develop your caregiving style.
Here's the Course Outline:
Frequently Asked Questions
WHO IS THIS PROGRAM FOR?
New mum, expecting mum, struggling mum, or veteran mum alike - this course is for you if you're ready to level up your self-care, manage stress, and take some time for YOU, so that you are the best mum you can be.
CAN I DO THIS COURSE IF I HAVEN'T HAD MY BABY YET?
Yes!! What a great way to prepare for motherhood.
Getting across the content before baby means you'll be more likely to hit the ground running when they are here. And, you get lifetime access to the content- so you can return back to it whenever you need!
HOW LONG WILL I HAVE ACCESS TO THE MATERIALS?
How does the lifetime of the course sound? You'll get lifetime access to the course for as long as it runs. 
WHAT IF I DON'T HAVE TIME TO SCRATCH MYSELF, LET ALONE DO A COURSE?
Aah yes, having a baby. The times where it's hard to shower, get dressed, or have a warm cuppa- let alone fit anything else in.
Even if you're stretched thin- you can do this course. First of all, it's accessible. You can listen to the audio files whilst you're feeding your baby, or taking them for a walk.
Secondly, it's in small pieces. Most lessons are under 10 minutes. There's room to watch a lesson after baby goes to bed (before you crash!), or to watch if someone else tends to baby for a few minutes. Or maybe you listen to a lesson over dinner. You can do this!
HOW LONG WILL IT TAKE ME TO GO THROUGH THE COURSE MATERIALS?
This program is self-paced - so you could go through the materials in as little as a day, a week, or a month! Since you'll have lifetime access to the course and materials, you'll be able to move at your own pace and return to the course when it suits you.
IS THERE AN APP FOR THIS COURSE?
If you have an iphone or ipad, then yes! You can download the teachable app for free here.
IS THIS A PARENTING COURSE?
No, this is not a course on how to parent or care for your baby well. This course is about supporting your development into motherhood, so that you can:
Care for yourself and baby at the same time
Develop YOUR caregiving style
Manage the stresses of motherhood
Become more flexible and confident with how you approach motherhood
WHY DOES IT COST $249?
Motherhood is a time when finances can become a concern- and I've been there too.
Many, many months went into researching, writing, filming, and editing this course, on top of years of study and experience. I took time away from my family and paid work to be able to create this course. There are also significant (hidden) expenses that go into creating an online course.
I have brought you the best of research, clinical work, and experience to empower your wellbeing in motherhood. On top of this, you have lifetime access to the materials. So the better question may well be:
Why is it only $249?
It is a lot cheaper than seeing me for therapy, that's for sure! And, there is nothing else out there quite like this program.
And here's the thing: You matter. You are important. You are worth an investment in your wellbeing. 
WHAT IF I SIGN UP FOR THIS COURSE AND IT ISN'T FOR ME?
We don't want you to be unhappy! You are welcome to contact us with any questions before purchasing this course at [email protected]
If you purchase the course and aren't happy, contact us within the first week after purchase to receive a refund.